We are a Cambridge International School, affiliated with University of Cambridge and offer International Examinations (School registration no: DK 093).
Cambridge programs and qualifications set the global standard for international education. They are created by subject experts, rooted in academic rigour and reflect the latest educational research.
Sønderborg International School is proud to offer these international qualifications and has a long-established history in their successful delivery. These qualifications are recognised internationally and provide our students with a strong academic foundation to progress to local or international educational routes.
Sønderborg International school utilizes this academic system to progress our students seamlessly from primary through to secondary. Our curriculum has been developed to meet the needs of our students and to ensure that on graduation the students are able to progress into their institution of choice and are equipped for success in the modern world. STEM subjects (Science, Maths, and English) alongside Danish language, foreign languages, and humanities are all offered at the school.
We offer the Cambridge Secondary 1 (11 to 14 years) and the Cambridge Secondary 2 (14 to 16 years). Students completing Cambridge Secondary 1 are entered for the Cambridge Checkpoint assessment. Subsequently having completed Cambridge Secondary 2 the students are entered for Cambridge IGCSE exams. Danish language exams are also taken.
We believe that not only do our students graduate with high academic qualifications but also as confident, responsible, reflective, innovative, and engaged learners
Success at IGCSE and Danish language exams allows students to transition to international A-level equivalents including: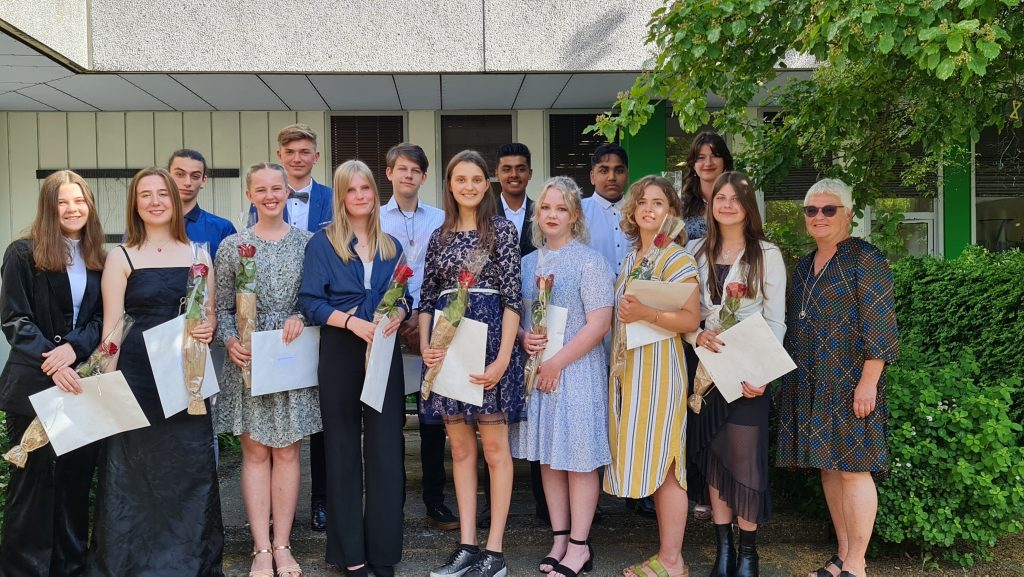 As a part of the Cambridge system, SIS is a part of a global community working to prepare students for success in our changing world.
SIS offers the best higher education both in English with the Cambridge examination system, which offers a clear structure to guide learners' progression from the start of primary to the end of secondary education. And also with FP9 Danish Exams.
The flexibility of the Cambridge system allows teachers to encourage and develop each child's interests.
Implementation of the Cambridge education at SIS
An effective pedagogy constructs a well-structured teaching module. Our pedagogy is based on
Activity-BasedLearning
Experiential Learning aims to help students improve their learning outcomes and achieve their full potential.
Safe & Enabling Environment
A secure environment for all students in the School Culture.  At SIS we believe that Children spend a considerable part of their time in their schools and hence a healthy and safe learning environment is vital for their overall growth and wellbeing.
Therefore the school aims to help every pupil achieve success and this we believe is best accomplished when pupil, parents, and teachers work together in partnership.
Small class sizes lead to more one-on-one attention from the teacher.
Students get to know each other better. 
The journey from Primary to secondary is based on these skills, which have been adopted in the curriculum.
In the primary school program, the curriculum is based on guidelines wherein the children are constantly engaged in observations, questioning, and probing– dwelling deeper into concepts using appropriate learning contexts, tools of inquiry, multiple ways of assessing the child's progress, and helping a child to become an independent learner are some of the focus areas.
The middle school curriculum builds on the skills acquired by the students in the primary classes through experiential learning and aims at giving students a deeper learning experience by identifying and supporting each student's potential and recognizing their strengths.
The secondary school curriculum further builds on the skills and knowledge acquired by the students in the earlier classes. Life skills like social skills, thinking skills – critical, creative, decision making and problem-solving, emotional skills, and attitudes and values are embedded in the curriculum.
Subjects at SIS
Mathematics
English
Danish
Science (Biology, Chemistry, and Physics)
Humanities (History and Geography, Global perspectives)
Religious education
Sports
Language (German)
Business Studies
Design and Technology (Home economics, Art and design, Forest schooling)
Art & Music
Learn more about the Cambridge Program
Here you can learn more about the Cambridge Program